CLAYES CHURCH
THE GREAT COMPUTER CONTROLLED PIPE ORGAN
A new example of traditionnal craftsman skill, associated with the most recent electronic and PC hardware and software
Pipe Organ Manufacture: Thibaud & Son
Hardware and PC sotware design : P. Leray
Pipe Organ History & design

---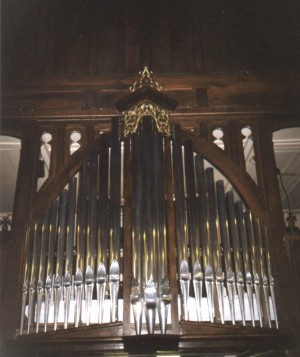 6 Stops: 334 Pipes
Montre-Prestant 8'
Bourdon 8'
Flute with Chimney
Dulzian 8'
Nazard 2'1/3
Subbass 16'
Any register can be controlled from any keyboar/pedal
Mixtures computed with PRESTANT, FLOTE and NAZARD:

PLEIN-JEU CYMBALE CORNET, any ranks.

All the Kimber-Allen pallet magnet are controlled by a dedicated PC software, via a dedicated input and power output interface. This allows an important volume reduction associated with new possibilities, impossible to implement on classic tracker Organs. All controls are centralized on a screen with a touch screen system.
However, if they don't want to use all the software possibilities, Organists can use classic stop buttons, put on console fronts.
All sounds are produced by PIPES, absolutely no electronic sound is implemented.
Stops memories (128 per Organist)
Automated transpose : + -12 half tones

Instantaneous registration changes (due to direct pallet magnets, without register bars)
Precise and fast sounds beginnings.
No mechanical noises
MIDI record and play
Completely undependant keyboards and stops
Completely undependant Bodies and keyboard positions in the Organ

Available stop number 3 to 4 times more important than on a classic tracker.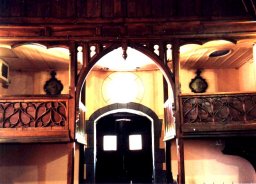 The tribune former state:
The Pipe Organ has been placed between the two tribune parts